REID CALLS REAGAN DEMOCRATS "UNEDUCATED WHITE MALES"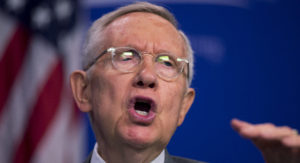 August 25, 2016
RENO, NV (AP) –
Sen. Harry Reid says Donald Trump can't win in Nevada because there aren't enough "uneducated white men" for him to carry the western battleground state.
The Senate Democratic leader who is retiring at the end of this year told reporters in Reno Tuesday that Nevada's demographics have changed over the years so Trump can't count on support from so-called Reagan Democrats who may have crossed party lines in the past.
Reid says that change – combined with his belief that Republican women are abandoning the GOP's presidential candidate- translates into a November victory for Democrat Hillary Clinton.
He also predicts former Democratic Attorney General Catherine Cortez Masto will defeat Republican Congressman Joe Heck in the race for Reid's seat. He also says Democrats will retake control of the U.S. Senate and pick up seats in the House.
Copyright 2016 The Associated Press. All rights reserved.