AS A LOYAL REPUBLICAN I AM OFFENDED BY NEVADA REPUBLICAN LEADERSHIP'S REFUSAL TO REPRESENT ME AT THE CONVENTION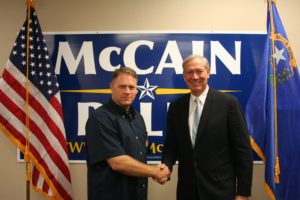 Rob Lauer 2008 Volunteering for McCain in the General Election against Obama with NY Gov. Pataki
July 17, 2016
Opinion
As a loyal Republican, I held my nose and voted for Mitt Romney in 2012 in the general election because he won my party's presidential nomination fours years ago. Eight years ago I stood by John Mccain after he won the Republican Primary. Donald Trump won more votes than any Republican presidential nominee in history including more than 33,000 Republicans here in Nevada. BTW only 32,000 total Republicans voted in the 2012 Republican Primary with Mitt Romney winning 50.01% of the vote with some 16,400 total votes. Four million christian conservatives stayed home in 2012 rather than vote for Mitt Romney, but I voted because I believed he couldn't be any worse than Obama.
But now we have a nominee facing Hillary Clinton who has pledged to continue the destruction of the US that Obama has started. We are facing the destruction of the 2nd Amendment, the first Amendment, the 5th Amendment, the nationalizing of local police departments, the continued empowerment of radical Islam around the world and a continuing threat to the homeland by terrorists.
So I am offended that our leadership here in Nevada, including Congressman Joe heck, Congressman Cresent Hardy, Congressman Mark Amodei and Senator Dean Heller, are refusing to attend the national convention in Cleveland this week and represent me. I get that many of them don't agree with Mr. Trump on many issues and don't like his style. I can appreciate that. Trump certainly has said himself he regrets some of the things he said off the cuff as well. And I certainly do not support everything he has done or said either. But I didn't support everything Mitt Romney said, but I manned up and supported the winner of the primary. Ron Paul went to the 2012 National Convention continuing to fight for the things he stood for. Republicans here do not have to surrender their strong held beliefs in order to attend. They can go and continue to fighting for their values without compromise. Going to the National convention is not just about supporting Mr. Trump its about representing Nevada's 450,000 Republicans.
I now have to consider whether I will just skip voting for those Republicans who refuse to represent me at the National convention. And god help those Republicans here in Nevada not attending if the 33,000 Republicans who did vote for Mr. Trump this year in the Caucus feel the same way as I do.
Rob Lauer
Political Contributor